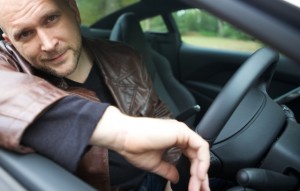 The daily commute is sapping the spark out of Britain's drivers as they spend over a week behind the wheel each year. Commuters are clocking up 7,130 miles on the roads, which is the equivalent of driving to New York and back according to a new report.
Only 15% of drivers enjoy their commute and two thirds (70%) are miserable about the state of the UK's roads and congestion. A fifth of drivers (19%) long for better driving from their fellow commuters.
Jon Lott, of Allianz Your Cover Insurance said: "We are launching this research to reveal how commuters feel about their daily drive to and from work.
"People are spending nearly an hour a day commuting and a third (32%) are frazzled before even arriving at work, feeling rushed, stressed and anxious from their morning journey, which is isn't a good way to start the working day."
Bringing costs down would rev up commuters' feelings towards their daily journey as two fifths of drivers (43%) said cheaper fuel would improve it. Destination is also key for commuter's feelings as a fifth of commuters wish for a better job and nicer colleagues to improve their daily drive.
Commuters admit to craving car companionship as one in 10 would have a better start to the day by having someone to share their journey with. If commuters did car-share more this in turn could lead to a more environmentally-friendly driving-force.
When it comes to the British commute, Northampton is in pole position as the top commuting city with three quarters of drivers (75%) enjoying their daily journey whilst a third in Coventry (36%) are being driven round the bend by their commute.
TOP CITY COMMUTES
1. Northampton
2. Newcastle
3. Worcester
4. Norwich
5. Cardiff
WORST CITY COMMUTES
1. Coventry
2. Gloucester
3. Sheffield
4. Portsmouth
5. Liverpool
Northampton is also the home of the UK's calmest commuters, whilst drivers in Belfast are pipping their horns to the news they are the angriest drivers on the journey to work.
Jon Lott continues: "A third (31%) of commuters we spoke to feel tired when driving home from work, when roads are often at their busiest, so it's important to keep alert in order to respond to other drivers who may have had a bad day at the office."
By Tim Barnes-Clay, Motoring Journalist