'Famous Five' inducted into the 2013 Motor Sport magazine Hall of Fame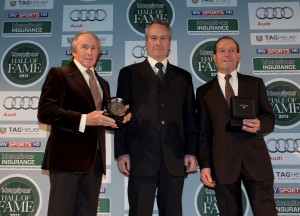 For the first time in the history of the event, Motor Sport magazine held their annual Hall of Fame evening at the Royal Opera House, in Covent Garden,  recently and honoured five 'racing greats' at this exclusive awards ceremony.
The Paul Hamlyn Hall was graced with some of the biggest names to have worked and raced in F1®, and this year's awards went to the highly deserving line-up of Niki Lauda, Damon Hill OBE, Graham Hill OBE, Colin Chapman CBE and eight-time 24 Hours of Le Mans winner Tom Kristensen.
Hosted by Sky Sports F1® HD presenters Natalie Pinkham and Simon Lazenby, it was a night to remember, particularly for the F1® fraternity. Three-time FIA Formula One World Championship® winner, Niki Lauda, receiving his award from Jack Heuer and Piero Ferrari, said, "I am very delighted and highly honoured to be inducted into the Hall of Fame."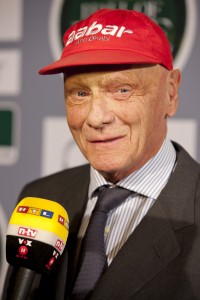 British driver and 1996 FIA Formula One World Championship® winner, Damon Hill OBE, commented, "Motor Sport magazine's Hall of Fame is already a highly prestigious institution. I know the entire Hill family is delighted to have not one but TWO family members inducted at once. It's another Hill first! And with a third racing Hill, in Josh, on stage to honour his grandfather, our cup of recognition will have spilled over by the end of the evening."
Clive Chapman, son of Lotus founder Colin, paid tribute to his father, saying, "The Chapman family is proud that Colin Chapman's achievements continue to be recognised and celebrated. We salute the hundreds of Team Lotus personnel whose ability and dedication enabled him to achieve so much."
Danish racing driver Tom Kristensen, said, "It's a great honour for me to receive this prestigious award from a magazine that is known around the world. Sportscar endurance racing is a 'team' sport and I have been very fortunate to drive for the very best teams and to share a car with fantastic co-drivers and so in this respect, this award is for them just as much as me.
"I've had fantastic times with these two drivers here tonight, Allan [McNish] and Dindo [Capello], both on and off the track. Of course Audi Sport Team Joest has given us the car, engineers, technicians and strategy, everything that has combined to enable us to achieve our success.
"It would be remiss of me not to mention my father, Carl Erik, who gave me the encouragement and advice at the beginning of my career. I owe him, and of course my lovely family, absolutely everything."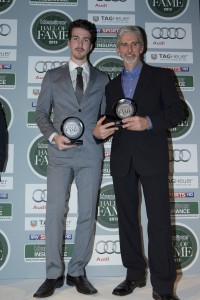 The first exclusive coverage of the Motor Sport magazine awards will be shown on Sky Sports F1® HD on Friday 01 March at 16:30hrs, as part of the hour-long F1® Show which will also cover the final pre-season test. In addition, this much awaited programme is scheduled for repeats during the subsequent week.
At Motor Sport's fourth annual Hall of Fame, held in association with Audi UK, a unique charity auction took place courtesy of Bonhams and on behalf of the Grand Prix Mechanics Charitable Trust. Motor Sport magazine is delighted to have raised over £92,000 for this worthy cause and thanks all of the prize donators and successful bidders.
Adding to the atmosphere and elegance of the evening, personalities such as Sir Stirling Moss OBE, Sir Jackie Stewart OBE, Jody Scheckter, John Watson MBE, Jackie Oliver, Martin Brundle, Stefano Domenicali, David Richards CBE, Allan McNish, Steve Parrish and many others from the world of motor racing attended. BBC Radio 2's Johnnie Walker and TV presenter Nick Knowles were also present, along with Ted Kravitz and David Croft from the Sky Sports F1® channel, and British actor Danny John-Jules.