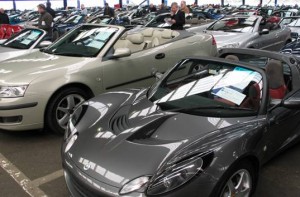 What are the sure signs of Spring's arrival?  Daffodils blooming?  Lighter evenings?  BCA's first specialist convertible sale of the year?  
Then Spring must nearly be here as Lex Autolease is staging two special Convertible sales with leading vehicle auction company British Car Auctions (BCA) in March, one in the North and one in the South. The first sale takes place at the Belle Vue Manchester auction centre on Thursday 14 March, with the second at BCA Blackbushe in Surrey on Saturday 23 March.
Lex Autolease will offer around 200 convertibles in each sale, with the selection ranging in value from under £4,000 to over £40,000, meaning there is something for everybody at every price range. The sale is open to all buyers, with BCA account card buyers able to bid via BCA's Live Online service.  For full details of the entry and to see images and condition reports on the cars log onto www.british-car-auctions.co.uk.
The event features cars entered direct from Lex Autolease and Black Horse, with a mix of business, ex-lease and finance cars.  All the cars in the sales will have the benefit of BCA Assured which provides peace of mind to buyers by providing a report on a 30 point mechanical check carried out by an independent motoring organisation.  Every car in the sale will be prepared to a high standard with a Smart Enhanced Valet.
All the finance cars in the sale will all benefit from a Black Horse Care Pack, which will contain the V5, MOT and service history (if applicable) and will confirm the number of previous owners.
Among the selection of 'drop-head gorgeous' cars on offer are:
2005   Toyota MR2 VVTI                                                     44,050 miles
2009   Audi TT TFSI                                                             33,148 miles
2011   Mercedes E350 CDI Blue Efficiency Sport         24,898 miles
2006   Audi RS4 Quattro –                                                  55,954 miles
2010   Audi A5 Cabriolet TDI 170 SE Startstop              6,894 miles   
2012   Audi A3 Cabriolet TDI 105                                     5,399 miles
2009   BMW 320I M Sport                                                   43,481 miles
2009   Mazda MX-5 SE                                                       58,369 miles
Dale Evans, Lex Autolease Area Sales Manager North said: "These convertible sales generate a real buzz with buyers and we look forward to offering a mouth-watering selection of drop-tops and roadsters at the Belle Vue Manchester sale."
Robert Sturley, Auction Manager South for Lex Autolease commented: "We have had some spectacular convertible and sports sales at BCA Blackbushe in recent years, and with the shortage of quality used convertibles and sports prestige cars in the market at present we are expecting this sale to be even more successful"
Alan Gupwell, Corporate Account Manager for BCA commented: "The specialist convertible market has strong following with buyers and themed events such as this create a great deal of interest. Lex Autolease and Black Horse are offering a superb selection of convertibles and roadsters in this sale and now could be the time to get the car of your dreams!"