Vauxhall Astra GTC 1.4 Turbo
The new Astra GTC lays down the gauntlet to VW's Scirocco and Renault's Megane Coupe with a heady mix of dynamic excellence, dramatic design features and competitive pricing.
The car looks like it's been yanked from the class above, with its low, wide stance and simple, yet rakish lines. In fact the only elements the GTC shares with its siblings are the door handles and the roof aerial – even the wheelbase and tracks are different.
But don't be fooled: the GTC's looks conceal a cabin that's roomy and comfortable enough to accommodate four adults and their luggage. Storage volume inside has been improved by 50 percent over the current model. So while the GTC will appeal to car enthusiasts looking for a muscular motor, its relative practicality should attract attention from fleet buyers and drivers with families too.
Astra GTC 1.4 Fast Facts
Max speed: 125 mph
0-62 mph: 9.9 seconds
Combined mpg: 47.9
Engine: 1364 cc 4 cylinder 16v turbo petrol
Max. power (bhp): 138 at 4900-6000 rpm
Max. torque (lb/ft): 147 at 1850-4900 rpm
CO2: 139 g/km
Price: £19,080 On the road
Nissan Juke 1.6 DIG-T Tekna

You either love the Juke or you hate it. At first glance, it doesn't appear fast, but it is; it doesn't give the impression of being comfortable, but it is. Do you see where I'm going here?
It is fun to drive – mainly because it zips away from a standing start easily, albeit in a highly-strung manner. On the other hand, I don't like the lack of load space because, as a dad of two, I need a boot which is bigger than the Juke's. That said, if you're going away on holiday or business, it is adequate for your flight case and your partner's travel case.
The Juke on test here, in flagship 'Tekna' trim, has enough room for four and, with its 1.6 turbo and 188 horses under the bonnet, it'll undoubtedly set all occupants' pulses racing. With a 0-62mph sprint of 8.0 seconds and a top speed of 134mph you can feel that Nissan meant this car to have a sporting, 'hot-hatch' character.
Nissan Juke 1.6 Fast Facts
Max speed: 134 mph
0-62 mph: 8.0 secs
Combined mpg: 40.9
Engine: 1618 cc 4 cylinder 16v turbo petrol
Max. power (bhp): 188 at 5600 rpm
Max. torque (lb/ft): 177 at 2000-5200 rpm
CO2: 159 g/km
Price: £18,095 on the road
Alfa Romeo MiTo 1.4 TB MultiAir 135bhp Distinctive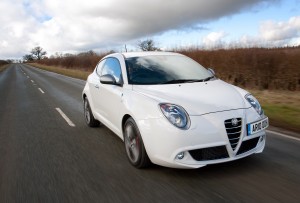 Launched in the UK in 2009, the classy MiTo offered a refreshing alternative to its mainstream competitors. This was made possible by sporty good looks, the introduction of a host of new technologies, including Alfa Romeo's dynamic control system (known as DNA), its award winning MultiAir engine technology, and a five star Euro NCAP safety rating.
The latest 1.4 TB MultiAir 135 bhp 'Distinctive' version I tested has, like all things Italian, bags of style. For me, the MiTo is a little cramped inside, but its looks are so seductive I really didn't mind nearly dislocating my shoulder to reach for the seatbelt. The £15,950 price tag also attracted me to the car.
On the road, the chic Alfa strikes an unbeatable balance between spirited performance and fine economy. The MiTo, mated to 135 horses, is responsive and pulls vigorously from low engine speeds. This dovetails perfectly with respect for the environment, reflected in CO2 emissions of just 129 g/km and a combined fuel consumption of 50.4 mpg.
Alfa Romeo MiTo 1.4 Fast Facts
Max speed: 129 mph
0-62 mph: 8.4 secs
Combined mpg: 50.4
Engine: 1368 cc 4 cylinder 16v turbo petrol
Max. power (bhp): 135 at 5250 rpm
Max. torque (lb/ft): 152 at 1750 rpm
CO2: 129 g/km
Price: £15,950 on the road


By Tim Barnes-Clay Twitter @carwriteups