Last year an early winter caught out thousands of motorists across the region, and with forecasters predicting yet another cold snap for the UK, it's more important than ever to be prepared. With that in mind we've checked out four cars which will look good for business but will also give you the extra grip you need to get to the office on time.
 New Porsche Cayenne Diesel
The Cayenne, which was revamped recently, has permanent all-wheel drive with self-locking centre differential. The luxury car's power is transmitted to all four wheels with optimum precision and control.
The new three-litre V6 Diesel engine offered in the Cayenne now delivers 245 hp, 5 hp more than previously. Fuel economy has also risen to 39 mpg from 38.2mpg, and CO2 emissions have dropped six grams to 189 g/km. The power increase has had a positive effect on performance. For example, the acceleration time from 0 – 62 mph has been cut by 0.2 seconds to 7.6 seconds, and top speed is up 2mph to 137mph.
As well as all-wheel drive, standard equipment on the Cayenne includes a leather interior, automatic climate control, parking sensors, cruise control, powered front seat adjustment and a very useful 100-litre fuel tank.
Priced from £46,338
Lexus RX 450h
Unlike mild hybrids, which use supplementary electric motor power simply to boost the performance of the petrol engine, the RX 450h is a full hybrid, capable of operation in both petrol and electric modes alone, or in a combination of both. It delivers the energy-saving benefits of a series hybrid and the acceleration performance of a parallel hybrid system.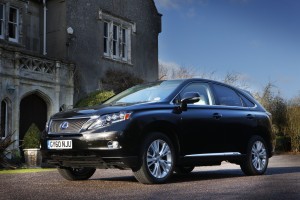 A unique feature of Lexus' hybrid drive system, the RX 450h's rear wheels are driven by a second motor to provide electric four-wheel drive under certain driving conditions, improving traction and vehicle stability.
Operation is controlled by the Vehicle Dynamics Integrated Management system, with automatic engagement via constantly adjusted front and rear electric motor torque under hard acceleration – both from standstill – and at any speed, when driving through corners and whenever the front wheels lose traction. There is also a special snow mode which helps modulate use of the accelerator pedal and improve vehicle stability when pulling away on snow or other slippery road surfaces.
The Lexus RX 450h sets excellent standards in crossover handling and driving enjoyment. It offers the comfort and composure of a premium saloon, combining responsive handling and agility on winding roads with stable, tenacious four-wheel drive off-road performance.
Priced from £44,530
 Infiniti FX30d
The FX30d benefits from one of the foremost intelligently-controlled all-wheel drive systems in production. An active torque management system controls a centre clutch to distribute torque front to rear according to traction requirements.
The power is constantly being adjusted, from 100 per cent to the rear to up to 50 per cent to the front, so that grip is always maximized on slippery surfaces. It's a system that comes into its own when driving on snow, mud or sand.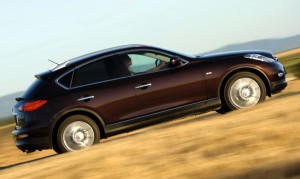 This all-wheel drive security doesn't compromise handling feel on dry roads. Unlike permanent 4×4 systems, which can deaden the steering and dull the driving dynamics, the FX's electromagnetic torque transfer system, plus its standard limited-slip differential, delivers a rear-wheel drive handling feel, even allowing for an element of oversteer. It all adds up to a more rewarding drive.
All FXs come with quilted leather seat facings, multi-adjustable front seats with heating and internal cooling, and, for rear-seat passengers, privacy glass, air-conditioning vents, armrests and plenty of in-car storage.
The FX30d is available in two highly specified trim themes, GT with the emphasis on luxury, and S with a more sporting accent.
Priced from £37,130
Honda CR-V
With refined road manners and an intelligent 4WD system that adapts to all conditions, the Honda CR-V is the ideal mode of transport during harsh winter weather.
Combined petrol and diesel sales of the award-winning CR-V top many other cars in the SUV category, thanks to the vehicle's price, ride, handling and versatility.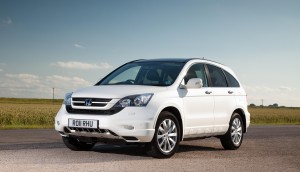 On roads covered in snow or heavy frost, the CR-V comes into its own, offering a safer, more confident drive thanks to its responsive 4WD set-up. As soon as slippage is detected from the front wheels, the clever Honda system shifts power to the rear.
This provides the CR-V with better acceleration and performance on slippery surfaces. It also gives smoother responses and improved performance when accelerating around corners and pulling away from road junctions, or when understeer has set in.
If you can wait, an all-new, fourth-generation CR-V is set to go on sale in the UK in Autumn 2012. Compared to the current generation, the concept model takes on a more aggressive stance with deeper sculpting of the body lines and a bolder front fascia. Equipped with more efficient engines compared to the current model, the new CR-V is expected to deliver improved fuel economy.
Priced from £21,935