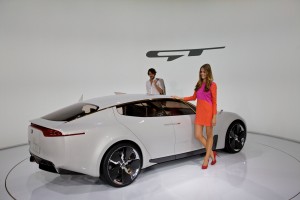 KIA MIGHT ONCE have been known for making budget cars, but the South Korean company has taken advantage of the economic climate to lever itself into a position of power. The popularity of cheap new cars with huge warranties and excellent customer service exploded in Europe a few years ago, so Kia, having gained the loyalty of consumers in this part of the world, has upped its game recently to produce cars that look anything but cut-price. The sexy Sportage and raunchy new Rio are two current examples.

But Kia's confidence in its cars has grown so much that at the Frankfurt Motor Show this week it unveiled what looked to me like the mother of all family saloon concept cars – the Kia GT. Powerful, dynamic and forward-looking, the four-door sports saloon with rear-wheel drive – a Kia first – marries sleek and muscular proportions with a sophisticated and elegant four-seater cockpit.
Although work on the Kia GT concept first started in November 2010, the idea of a powerful rear-wheel drive Kia saloon had been percolating in the minds of Kia's European designers for some time. "This concept allows us to explore exciting new design directions, as using a rear-drive layout creates very different proportions compared to a front-wheel drive car," said Peter Schreyer, Kia's Chief Design Officer. "The classic front-engined, rear-wheel drive layout of a performance saloon has distinct appeal not just for the domestic Korean audience, but also for the European and American markets."
 "At the onset of this project," added Gregory Guillaume, Kia's European Design Chief, "the design team was inspired by the spirit of iconic 1970s GT cars: sumptuous and elegant vehicles capable of whisking passengers from Paris to the South of France in effortless style and at high speed. We wanted to create something similarly graceful, athletic and confident, but not aggressive or overbearing."
 One of Schreyer and Guillaume's key goals was to ensure that the car's proportions couldn't be mistaken for anything other than a rear-wheel drive performance saloon. Hence the extended bonnet with the front wheels pushed right to the very front of the car, the cab-rearward stance, powerful rear shoulders and truncated rear end. The car's powerful silhouette is balanced by a raft of eye-catching details. The brake callipers are finished in copper, the contours of the  top of the windscreen flow into the roof, itself subtly bubbled to create further headroom for driver and front passenger. And the bonnet features a discreet power bulge and air intake, hinting at the car's performance potential.
Both Schreyer and Guillaume are particularly passionate about the Kia GT's lights. The alloy-framed central grille is flanked by complex headlamp units that each house a bank of six deeply recessed LED illuminators, to create a highly distinctive nocturnal signature. The advanced construction of the headlamps is mirrored by the single sweeping wing-shaped tail light that flows around the car's flanks and incorporates two sets of three upright stanchions.
Inside, and despite its low stance, fast roofline and shallow glasshouse, the Kia GT's clean and uncluttered cabin architecture has created a spacious and airy interior with generous accommodation for the driver and three passengers. The single-piece seats float on arched supports, further accentuating the cabin's spacious dimensions.
A glass instrument panel features three layers of organic LEDs. These not only give it a three-dimensional depth but also allow a wealth of information to be displayed at the driver's command, freeing up the centre console from the usual proliferation of controls, buttons and displays. Fingertip controls mounted on the small, dished, three-spoke steering wheel allow the driver to select the desired data display.
This sophisticated instrument panel floats above the muscular centre console, further enhancing the cabin's sense of space. The large red starter button and twist-and-go transmission selector are combined in a single compact unit, freeing up space on the central transmission tunnel. Playback from the cigar-shaped rear-view cameras is displayed on a pair of compact and thin LED screens mounted on the doors – perfectly positioned in the driver's line of sight.
 Metallic-treated leather is used throughout the cabin, and this russet cabin hue is enriched by the golden tint of the glasshouse. According to Kia, the idea behind this leather surface treatment is simple – the areas with which the driver and passengers come into regular contact become buffed and smooth, creating a warm and welcoming patina to the cabin.
 Schreyer believes this concept is less about design specifics and more about a general feeling of stance, proportion and balance – elements that will influence and guide his design team's approach to their next project.
 "One of the great things about working on this project was that this is a very real car," said Schreyer. "It felt good to be working on a car that could roll down the road tomorrow. Yes, it would be a dream to put this into production – it has a logical layout, with four seats, and good luggage space, and it's also engaging and dynamic and makes a strong statement. It's exactly the kind of car Kia should be making."
 Under the bonnet, the Kia GT houses a V6, 3.3-litre T-GDI petrol engine mated to an eight-speed automatic transmission. The car has 390 horses and up to 393lb/ft of pulling power. If it ever gets made, and let's face it, not many concept cars really do end up going into production, then this will be one motor I would want to drive. It's different, it's knee wobblingly attractive – and it's a Kia. On seeing the badge, many people will think they're hallucinating, but believe me, this East Asian car maker has only just begun its shift up-market. Expect more from Kia in years to come. Expect a lot more.