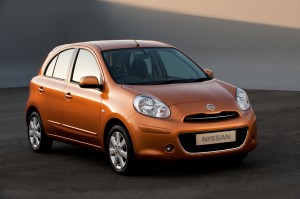 BOASTING CLEVER packaging and small-car engineering, the fourth generation Nissan Micra is on course to create a whole new set of industry standards.
The car has consistently won praise and success in Europe, Japan and other markets, gaining a reputation as a reliable, stylish, accessible motor, enjoyed by a wide cross-section of customers. The latest Micra has been designed to build on that trend – in 160 countries.
With a naturally aspirated 1.2-litre, 3-cylinder petrol engine and a supercharged 1.2-litre direct injection unit with a start-stop system, the Micra is surprisingly lively and economical to drive. Both engine options are available with either a 5-speed manual gearbox or Nissan's all-new Continuously Variable Transmission(CVT).
But not satisfied merely improving performance levels, Nissan's engineers have also excelled in developing ride and handling characteristics, which combine agility, refinement and poise. The suspension has been designed to be compact, minimising intrusion at the rear for maximum boot space, but not at the expense of the car's on-road dynamics. Particular attention has been paid to bump absorption, meaning that
the Micra rides with composure over challenging road surfaces, doesn't suffer from wallow or float, and cruises effortlessly at motorway speeds.
In contrast to its high speed capability, the car also has superb visibility and a class-topping turning radius of 4.5m and several new technologies that assist with making life behind the wheel easier. These include reversing sensors and a 'parking space measurement' device, a touch-screen combined audio and satellite navigation system, a glass roof, automatic wipers, and a computer which supplies real time fuel economy information, cruising range and outside temperature.
On the safety side of things, the car is designed to absorb the forces of a frontal impact, thanks to the sophisticated crumple zones, while maintaining cabin integrity due to its highly reinforced body shell. The Micra is also fitted with ABS, dual front airbags, curtain and side airbags, Electronic Stability Programme (ESP) and pretensioner seatbelts as standard equipment.
The Micra has, for a long time now, been the benchmark city car in Europe. And now, with its revised design, roomy interior, efficient engines, and user-friendlytechnology, the little Japanese motor's legendary appeal looks certain to remain.
PROS 'N' CONS
Economical  √
Easy to park √
Limited engine range X
FAST FACTS
Max speed: 100 – 106 mph
0-62 mph: 13.7 – 14.5 secs
Combined mpg: From 52.3
Engine layout: 1198cc 3 cylinder 12 petrol
Max. power (ps): 80 at 6000 rpm
Max. torque (lb.ft): 81 at 4000 rpm
CO2: From 115 g/km
Price from: £9,250 OTR
Nissan Micra