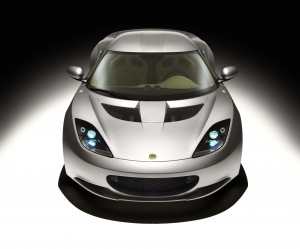 MANY MOONS ago the cynics joked that Lotus stood for Lots Of Trouble Usually Serious. But the Norfolk based sports car maker has produced some beautiful, reliable cars since then.
One such car has to be the exquisite Evora. Its Pepsi-bottle shape, reminiscent of a curvy woman, is very hard not to like. Even non petrol-heads commented on what a nice motor I had when I tested the Evora IPS recently.
But what are those three letters following the name of the car, I hear you ask? Well, for a start, the letters don't appear anywhere on the body of the Lotus. The car looks like a normal Evora on the outside. And let's face it, a normal Evora is pretty special because only about 2,000 of the beasts have been sold – so really, it's anything but normal to see on our roads. Anyway, I digress; IPS stands for Intelligent Precision Shift. Basically, it's all to do with the gearbox. You see, Lotus knows that the Asian and American markets prefer automatics to manuals and that's why, for the first time in years, an auto 'box has been offered up as an optional extra to a flagship Lotus.
The original Evora, launched in 2009, was generally well received. Two things let it down though: the notchy gearbox and the poor interior. Both of those negative points seem to have been remedied. The IPS 'box is pretty smooth and is designed to avoid shifting gears mid-corner – it suits the Evora. Yes, some serious petrol-heads will hate automatics, but there are paddle shifters behind the steering wheel which make up for it. The nicely damped paddles allow you to carry out lots of sporty gearshifts which help produce growls from the engine to match the powerful appearance of the car.
The cabin looks and feels better screwed together than the Evora of two years ago. There is still a vague smell of glue, but I like that. It reminds you that the car is hand-built – not put together in some faceless factory in the middle of Europe – but made right here in England.
Behind the wheel, the car is sedate when you want it to be and a complete brute when you floor it. It propels you from 0-62mph in 5.5 seconds and on to a top speed of 155mph. The feeling is awesome and the power of the car quite literally takes your breath away. Occasionally the Evora seems a little juddery when it's working out which gear to shift into if you lift off the gas quickly, but this is rare. Most of the time the engine and gearshifts feel smooth while the seats inside the 2+2 cabin support you well.
The switchgear on the Evora seems a bit hidden at first, but once you get your bearings everything seems logically set out. The only thing I couldn't work out was how to open the boot – but that's probably just me. The built-in sat-nav is a bit dodgy and doesn't really lend itself to a car retailing for over £50k, but you're not really buying a car like this for a sat-nav are you? You're going to go for this because it makes you feel special every time you go out in it. In fact, it'll make you feel special just having it parked on your drive. It's one of the best looking cars I've driven for a long time, and even though I'd never be able to fit my one year son old and four year old  daughter into the back seat, I reckon the car would still make it onto my list of cars I'd like to own one day. It's a cracker, and in IPS guise it makes light work of driving.
Maybe I'm biased. I am from Norfolk after all – but I wish the guys down at Lotus all the best with this latest Evora. I can't wait to see what's next on the horizon from the legendry Lotus builders at Hethel.
PROS 'N' CONS
Looks√
Power√
Excitement factor √
Not cheap X
FAST FACTS
Max speed: 155 mph
0-62 mph: 5.5
Combined mpg: 32.1
Engine: 3.5-litre V6 petrol
Max. power (bhp): 276 at 6,400 rpm
Max. torque (Ib/ft): 258 at 4,600 rpm
CO2: 208 g/km
Price: £51,100 (IPS £1,500 option)
Click here to read a published review (pdf format) of the Lotus Evora IPS – Locals Magazine
Click here to read a published review (pdf format) of the Lotus Evora S – Norfolk On My Mind Magazine, Issue 33 July 2012