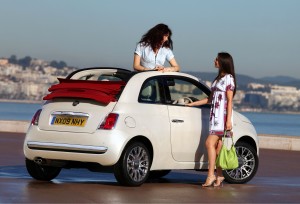 THEY SAY "small is beautiful", and the petite Fiat 500C is no exception to that much used turn of phrase. But this chic little motor has much more to it than looks.
The Italian made car's TwinAir petrol engine has a cubic capacity of just 875cc, and with a turbocharger bolted on the power output is a healthy 85bhp. The Fiat is also extremely green. It has the lowest CO2 emissions of any production petrol engine in the world – just 92g/km. In the real world that means road tax for the TwinAir is nil and the London Congestion Charge does not apply. And it gets better, with fuel consumption figures of 68.9mpg (combined) the 500 TwinAir represents excellent value for money in terms of owning and running costs.
Behind the wheel, the feisty Fiat 500C is a genuine giggle to drive because the TwinAir engine is 'rev-happy' with a decent amount of 'go', thanks to the turbo. Top speed is a surprisingly fast 108mph and 0-62mph takes just 11 seconds. This is more impressive than some 1.0/1.2 and 1.4-litre four cylinder petrol engines.
The Fiat is also relatively spacious for what it is. The rear bench takes two child seats without any problem, and when my wife borrowed the 500 to take the children to nursery, she raved on afterwards about how easy it was to manoeuvre in the manic crèche car park. The only real downside, if you have children or you plan on doing lots of driving holidays, is the tiny boot – but from just £10865 on the road, you really can't go far wrong for this kind of pleasurable, green, economic motoring.
PROS 'N' CONS
Image √
Economical  √
Fun √
Tiny boot X
 FAST FACTS
 Max speed: 108 mph
0-62 mph: 11.0 secs
Combined mpg: 68.9
Engine layout: 875cc 2 cylinder 8v   petrol
Max. power (bhp): 85 at 5500 rpm
Max. torque (lb.ft): 107 at 1900 rpm
CO2: From 92 g/km  
Price from: £10,865 OTR