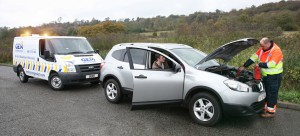 MODERN MEN still rely on dad to carry out the most basic jobs on the house and car, it was revealed this week.

The findings emerged in a study of 2,000 people and show that men aged 18 to 30 struggle with relatively simple tasks, such as changing spark plugs, laying carpet or jump starting the car.
In contrast, dads aged 45+ would think nothing of getting under the car bonnet to fix a problem, or embarking on a bit of DIY around the house.
But a quarter of today's young men would happily call dad for help if the car broke down, while a fifth rely heavily on him for advice on jobs in the home.
A spokesman for breakdown company GEM Motoring Assist, who conducted the study, said: "Today's generations are unable to carry out jobs which their fathers would be able to do with their eyes closed.
"We're not sure whether this absence of knowledge is down to a lack of time, work commitments, or simply a disinterest in knowing more.
"Certainly it seems more commonplace for men of today to rely on outside help for any household, gardening or car related tasks – whether it be dad, tradesmen or other professionals.
"And perhaps it is better to ask for help rather than making things up and risking a costly repair job."
The poll shows that 79 per cent of young men can't wallpaper a wall, 54 per cent are unable to put up a shelf, and just a third can hang a picture on the wall.
When it comes to their motor, men are just as useless:

Only three in 10 can replace the oil in their own car, more than half wouldn't have the first clue about how to change a tyre, and 59 per cent don't even know how to replace the windscreen wipers.
In contrast, fathers aged 45+ are more than proficient at almost all the household, DIY and car related tasks.
Eighty five per cent of men aged 45+ would easily be able to wire a plug, compared to just forty per cent of youngsters.
Similarly, four in five men of the older category can test car tyre pressure, three-quarters are comfortable using the washing machine and 58 per cent could easily fix a door lock.
Perhaps unsurprisingly, given the results, 77 per cent of men aged 18 to 30 admit they don't know nearly as much about car maintenance as their dads do.
And 75 per cent are far more clueless than their dads about DIY and household upkeep.
When asked why they are unable to tinker with the car or repair the house, 44 per cent of young men cite a lack of time, a quarter simply prefer to ask dad, and two thirds prefer to call in the professionals.
David Williams of GEM Motoring Assist, comments: "We're not surprised at these results as we frequently receive calls from dads about the fact that their son or daughter has broken down, rather than the young drivers calling themselves.
"The survey shows that between the two generations there is a real difference in approach to getting things like DIY and car maintenance done.
"The research could be a sign for the modern man to step up and take on a more 'can-do' approach, as their dads would."
PERCENTAGE OF MEN WHO 

CAN

:

Men aged
Men aged
18-30
45+
Change a car tyre
46%
71%
Replace oil in the car
31%
55%
Fill the car with petrol
62%
85%
Change the spark plugs on the car
20%
55%
Replace windscreen wipers on the car
42%
72%
Test the car tyre pressure
53%
83%
Fill up the windscreen wash
54%
83%
Put up a shelf
46%
74%
Change a fuse
50%
86%
Change a light bulb
65%
85%
Hang a picture
57%
84%
Wallpaper a wall
22%
58%
Bake a cake
46%
45%
Wire a plug
42%
85%
Lay carpet
14%
39%
Lay laminate flooring
16%
31%
Work the washing machine
56%
74%
Lay decking in the garden
13%
37%
Turf a lawn
22%
50%
Seed a lawn
33%
65%
Fix a door lock
27%
58%
Change a door handle
27%
73%
Jump start the car
32%
71%
Put up a tent
56%
68%
Tune a television
63%
81%
By Tim Barnes-Clay,
Follow on Twitter @Carwriteups
Freelance Journalist