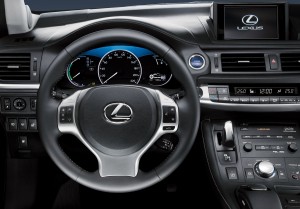 THE NEW Lexus CT 200h was designed and developed with the European market in mind. It is the first full hybrid vehicle to be launched in the premium compact segment.

Having recently gone into production, the car is set to provide a new gateway to the Lexus range and is designed to attract new customers to the brand. Lexus claims that the five-door car, with emissions of just 96g/km CO2, will address the requirements of environmentally conscious customers, while still delivering quality, refinement and driving pleasure The exterior is styled for maximum aerodynamic efficiency and minimum wind noise. The strong front grille sits over a full-width bumper and air dam. The headlamp units, positioned higher than the grille, incorporate fashionable LED daytime running lights. In profile, the steeply raked windscreen and long, flowing roofline combine to create an elegant and distinctive silhouette. The front and rear corners have been pulled in tight and the wings are styled to improve airflow down the sides of the vehicle.
In spite of its compact design, the CT 200h offers a roomy, executive interior. The 2,600mm wheelbase allows for spacious front and rear passenger accommodation and there is a luggage capacity of 345 litres. And in keeping with the car's performance, the driving position is set low, with a highly supportive driver's seat. The instrument binnacle houses large, twin dials; in SPORT mode, the hybrid indicator in the binnacle
functions as a tachometer and the ambient lighting turns from blue to red. The two-mode switch ring and a spotlight in the centre cluster also light up in red, changing the whole atmosphere of the cabin. It's all really cool hi-tech stuff.
Even more impressive is the Lexus Hybrid Drive system. It combines a 1.8-litre VVT-i petrol engine with a powerful electric motor. Using the electric motor on its own means zero fuel consumption and zero CO2 emissions. Unfortunately the drawback is that the car can only run in this setting for 1.2 miles at a top speed of 28mph. But that is no great worry – the car still offers great environmentally friendly motoring, luxury and
performance all from just £23,485. First deliveries are available in the UK now.
PROS 'N' CONS
Economical √
Green √
Safe √
Electric motor isn't great on its own X
FAST FACTS
Max speed: 113 mph
0-62 mph: 10.3 secs
Combined mpg: 68.9
Engine layout: 1798cc 4 cylinder 16v petrol
Max. power (bhp): 98 at 5200 rpm
Max. torque (lb.ft): 105 at 2800 – 4400 rpm
CO2: 94 g/km
Price: £23,485 – £30,635 OTR
Lexus CT