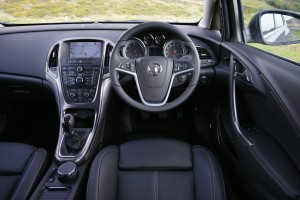 THIS IS the sixth generation of Astra in 30 years, but the only part of the popular Vauxhall which isn't new is its name.
With its strong silhouette and steeply-raked windscreen, the new model makes clever use of many of the design features found in the Insignia. Also, like its larger sibling, it has spent over 600 hours in the wind tunnel, benefiting performance, economy and overall refinement.
The Astra possesses a keener drive and greener engines, but it also has a more comfortable cabin with more space. Step inside and the changes are obvious. Yes, there are still cheap plastics tucked away here and there, but the overall look and feel is of quality and solidity. Space-wise, the estate's practical load bay certainly puts it in front of more expensive and less accommodating rivals, but there is another convenient element – the
Astra has a raft of clever cabin storage solutions. Vauxhall says they are designed specifically for the 20 most common items buyers have been found to carry in their car, from an MP3 player to a 1.5-litre drinks bottle. It sounds dull but on test I did actually find room for most of my fiddly stuff – it really makes a difference and made me feel more organised whilst on the move. Simple but clever stuff, Vauxhall!
The new-shape Astra is available with an assortment of engines, ranging from 87PS to 180PS, all of which offer impressive efficiency and an overall cut in emissions of 13.3 per cent compared with the old Astra range.
Diesel engines are expected to represent almost half of all Astra sales. They range from the 1.7-litre – available in two states of tune, providing either 110PS or 125PS to a 2.0-litre generating 160PS. The combined cycle fuel consumption on the 1.7 CDTi 125PS SRi Sports Tourer demo, on test here, is supposedly 62.8 mpg. I didn't quite get that in the week I had the car, but I have to say it's not exactly thirsty – and it even had fuel left in it when it went back to its home in Luton.
Vauxhall's engineers have obviously listened carefully to what buyers want and have upped the game everywhere on the Sports Tourer. The outcome is that the Astra gives a satisfying experience behind the wheel, especially in SRi trim as the car comes with sports suspension making it sharper to drive. It is a great buy for a family with 2.2 kids or for someone on the lookout for a stylish, compact yet flexible load-lugger. Definitely worth splashing the cash – if you're not bothered about having a ubiquitous Astra parked on your drive.
PROS 'N' CONS
 Quality √
Space √
Economical √
SRi trim expensive X
FAST FACTS
 Max speed: 120 mph
0-62 mph: 11.2 seconds
Combined mpg: 62.8
Engine: 1686 cc, 4 cylinder, 16v turbocharged diesel
Max. power (bhp): 123 at 4000 rpm
Max. torque (lb.ft): 206 at 2000 – 2700 rpm
CO2: 119g/km
Price: £23,315 as tested